Hand Engraving Artist
Steve J. Lindsay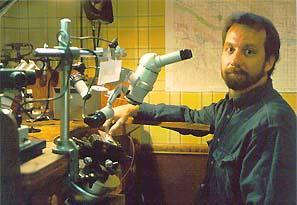 Steve Lindsay's engravings are cut by hand under a microscope. The layout and designs of the engravings are first drawn with pencil and the design is then cut under the microscope. 24k gold is used for inlays. Generally, knife engraving prices range from $3,000 (for scroll on a medium sized interframe folding knife without gold inlays), to $40,000 (for elaborately engraved Lindsay designed and made folding knives). Please visit the engraving gallery to view some of the engraving work.

Steve grew up in the back of his father's jewelry store, learning the skills of gold and metal working. His father, Frank W. Lindsay, is a recognized watch maker and gemologist. Steve's great grandfather was an engraver and jeweler, and his grandfather was a landscape painter. Steve says the art and design part of the engraving is the most enjoyable. Steve attended Southeast community college in Milford, NE and majored in tool & die and engineering. He has been a full time engraver since 1979.

Recently Steve Lindsay was granted a patent for a pneumatic graver he uses to hand engrave with.

---
Steve has been working with several new knife folder designs and mechanisms. These are screw together folders with all screws and pins hidden. The screws are accessed by reaching inside the bottom edge of the knife. The locking mechanism is also new. Many thanks to friend Barry Trindle for preliminary help with this mechanism. The lock bar is hidden inside, making the top edge of the knife completely engravable. Here is a link to one of the designs.

Currently Steve is not accepting additional engraving work on other makers' knives. This is to allow him to concentrate on the venture described above. However, if you have a need for a small engraving project, i.e. engraving a name in a fancy font, designing and cutting a small scroll design or an unusual small or large project, please post your request on the engraver needed page. Numerous hand engravers visit the EngraversTools.com web site providing the possibility that one or several hand engravers may respond to your inquire.

Email: slindsay@lindsayengraving.com
Web: www.lindsayengraving.com
Hand engraving tools air graver air chasing graver jewelers tools jewelry repair gravers wood carving engraving school western engraving firearms engraving gun engraving.